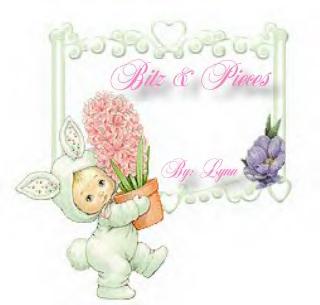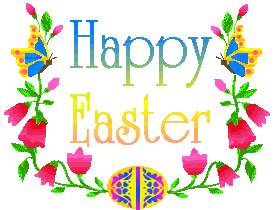 Hippity & Hoppity's Easter Egg Hunt
Hippity and Hoppity were trying very hard to get all of their preparations done for the Easter Sunday Egg Hunt. There were many other animals helping...but it always seemed like they waited to the last minute to
prepare for everything.
Hippity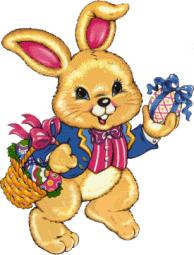 And Hoppity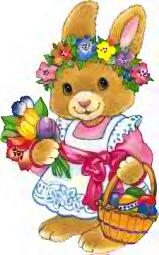 decided to take baskets of colored eggs, candies andflowers to their friends. They had finished all their preparations for the Easter Egg Hunt
the next day, and wanted to spend some time visiting with those who
were unable to leave their homes. As they walked down the flowered
path, they came across
Connie Chick who was roller skating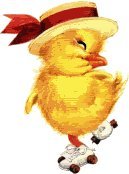 ;; & singing along. Connie Chick barely opened her eyes to see Hippity and Hoppity right in front of her ! Connie Chick rolled into the tulips, just missing them.
"Connie Chick, what are you doing? You almost made me drop my
basket of eggs for our home bound friends!", said Hoppity.
"Theses young chicks today....just don't know what has gotten into
them!" Hippity said as he checked his basket of eggs.
"Oh, I am sorry, but I am late to help babysit the little chicks, while the adults set up the park for tomorrow," chirped Connie Chick.
"Well, just be more careful, and try and keep your eyes open so you
can see!" said Hoppity, as she skated up the path out of sight.
Soon Hippity and Hoppity came to Professor Rabbit's House.
And just like any other day before Easter, he was hand painting all
the eggs for the egg hunt and hoping that they would be dry enough
to place in the grass that night.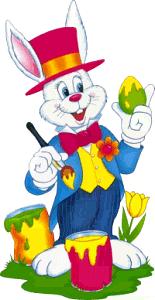 "Hello Hippity and Hoppity! A beautiful day to paint eggs, don't you
agree?" Professor Rabbit beamed with pride at the hand painted
eggs.
"Indeed it is Professor. Will your eggs be ready to hide tonight?"
asked Hippity.
"Of course they will my boy!! Of course they will !!" Professor Rabbit declared without stopping his painting.
As they were passing by the park they saw Mrs. White Rabbit;;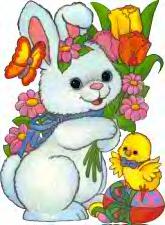 loaded down with fresh flowers to cover the newly hidden Easter eggs.
There were

;; little chicks running around
her feet.
"Where is that Connie Chick? She was supposed to watch over these
little chicks while I was doing the decorations!" Mrs. White Rabbit said
as she tripped over another baby chick.
Pretty Pink Rabbit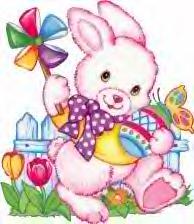 ;; was placing colorful
pinwheels, decorated eggs, and candy around the fence where the
little chicks were playing.

Happy Bunny was having fun balancing the fresh cut
tulips
on his paws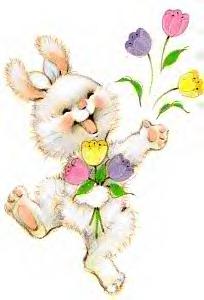 ;; when Mrs. White Rabbit asked, "Happy, what are you doing with those tulips? Your supposed to be spreading them gently over the hidden eggs!" And where is your
brother Fluffy, - you were suppose to keep an eye on him for me!"
"Gee, Mama Rabbit, I was only making Fluffy laugh. He's in the basket
next to those eggs."
;; Giggled Happy Bunny.
"Little Pink Bunny,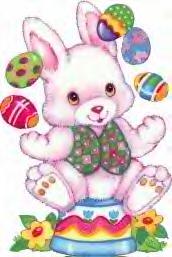 ;; please stop juggling those
eggs! You may drop them, and there will not be enough for
tomorrow!" warned Mrs. White Rabbit.
"Gee Mama Rabbit, I am only having fun," pouted Little Pink Bunny.
Hippity and Hoppity were standing there at the edge of the park as
Mr. Blue Rabbit came into the park from the other side with his
wheel barrow full of goodies;;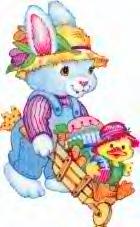 "Mrs. White Rabbit, where would you like me
to put these eggs and decorations? Sure is looking good, you've been working hard!" Mr. Blue Rabbit said shaking his head in approval.
"Thank you, Mr. Blue Rabbit, for all your help!" said Mrs. White
Rabbit smiling from ear to ear.
"Daddy Blue Rabbit wait for me!";;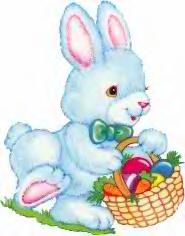 cried Little Blue Bunny running behind his
father with a basket of eggs and candy its contents spilling onto the ground.
"Oh, sorry Little Blue Bunny. I will slow down til you catch up!"
said Mr. Blue Rabbit, chuckling under his breath.
"Hippity...Hoppity!!" Mrs. White Rabbit waved toward them,
as she caught sight of them on the other side of the park.
" It is like this every year - Hippity, - always waiting til the last
minute to do everything. Poor Mrs. White Rabbit sure seems
frazzled. "
Hoppity said as she shook her head.
"Yes, my dear it is usually like this, but somehow everything
always manages to get done." Hippity agrees.
"And doesn't the Easter Egg Tree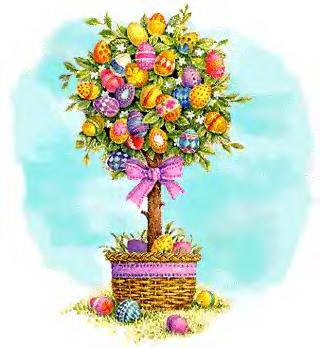 look absolutely beautiful this year." He adds knowing that his wife
Hoppity finished decorating it that morning.
"Why thank you dear," said Hoppity.
They beamed Smiles at each other, and slowly walked down
the path on their journey to deliver their TREATS.
THE END









All music updated every Sunday night.
All music on these pages is available from:
Daily Reflections Midi Pages

Subscribe to B & P above