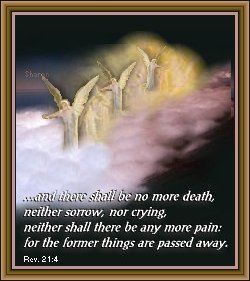 God, It's Me
I have the same question I've asked before
Can you please help me shut this door
The one to the room in my heart
That has been totally ripped apart
The room that holds his memory strong
Makes me believe I can't go on.
Tell me how to do it without it hurting me
Show me God, please help me see.
Child, I'll answer but listen with your heart.
I can't take the pain away you've had since he died
But I can promise you that I'll stay at your side
You can't close the door to your heart
He is still there, so you're not really apart
That room you will someday want to see
And you'll be able to smile at his memory
Just know that he is in Heaven with me
Watching and missing his family.
When the day comes and your time is done.
You'll join him in Heaven and together be one.
Used with Authors Permission
Copyright© Patty Zink
Patty Zink









©/Original Music By: Geoff's Music
Geoff's Music Site